Happy Wednesday, friends!
I hope you're having an excellent week. I'm back with a non-book related post for the week. I was on
Sharonda's blog
earlier this week and was reading her post on the shows/movies she had recently watched when I realized that it's been a while since I've posted a
What Has Nick Been Watching
. I think the last time I posted was in October 2019, oops! Anyways, I thought it would be fun to briefly chat about some of the shows I've watched recently. I'd love to hear about what you've been watching too in the comments below! :)

Miss Scarlet & The Duke


I was inspired to try Miss Scarlet & The Duke thanks to
Olivia Dade
's tweets about the show. I'm a sucker for a British period piece, especially if it involves crime-solving. The premise of the show reminded me of Sherry Thomas' Lady Sherlock series (if you haven't read these books, PLEASE READ THEM), and it delivered for me. I enjoyed Eliza and her stubbornness, which she needed to navigate this very patriarchal time period. And William! It delighted me to watch this big hunk of a man be completely exasperated by this little woman! LOL! Sadly, there was no banging, but lots of heated exchanges and the potential for a fabulous romance in the next season. My only real complaints are a) not enough POC (there's one Black side character) and b) not enough episodes.
So Disney+ is releasing Wanda Vision episodes weekly ... What is the point of a streaming service if I cannot binge-watch a show???? Anyways, Wanda Vision is kooky. I actually went in not watching any trailers so I was confused about what was going in the first two episodes - they are shot as old sitcoms in black and white. But I was also entertained though and then episode 3 came and I was HOOKED. Things are starting to make a bit more sense now, but I'm still confused AF. I'm digging it though and look forward to watching the next episode. I'm wondering if they are going to position Wanda as a villain. Thoughts?
OMG Derry Girls! Where do I even begin with the utter chaos that is Derry Girls? It's an Irish sitcom set around the time of the Northern Ireland conflict and follows the lives of these teen girls (and boy, James) in a town called Derry. It's so whacky but completely hilarious. I swear every episode had a moment where I laughed so hard I fell to the floor. My favorite has to be the episode with the priest. I love all the characters on the show but I relate the hardest to Sister Michael. 😂I won't even bother describing her because it's impossible and I won't do her justice!! If you enjoy sitcoms, I highly recommend this one!
★1/2
Lord, this was a mess! So, this is supposed to be a live-action of the fun Italian animated series and I originally had no intention of watching it because of the white-washing of the show. But as you probably already know, I am a whole-ass clown and enjoy making a fool of myself and wasting my time. 🤡🤡Long story short: I watched it and hated it. The characters, especially the MC, Bloom, are so fucking stupid and irritating. Netflix took this bright, fun, colorful show and turned it into ... Riverdale-lite? I don't even know. Tragically, there wasn't even anyone for me to thirst over! Anyhoo, I don't know why I finished watching it, but I did and I regret my life.
The Flight Attendant
★★★1/2
I knew I wanted to watch The Flight Attendant because that trailer got me. I mean the premise is that this flight attendant has a one-night-stand with this hot passenger on her flight and she wakes up to his dead body. I couldn't resist! In fact, I was so interested in watching it that I got Aria's sperm donor to let me mooch on his HBOMax account - thanks
Amber's
husband! I'm not the biggest Kaley Cuoco fan but I was interested to see what she would do with this kind of role. She genuinely surprised with how good she was in it and I'm looking forward to more of the show. I think the show did a good job at keeping me engaged and I really did like the side characters as well as the dead guy who shows up in the MC's mind. The plot did lose steam here and there, but overall, it was a good show.
This was an odd one. The premise was fun - it's a bunch of 20-something people living together as property guardians in this old building that used to be a hospital. Two of them are engaged and the dude's girl best friend, played by Phoebe Waller-Bridges, shows up disrupting everyone's lives. Lulu and Anthony obviously have feelings for each other but neither is good at communicating so it's a whole mess. What made this show for me though was the side characters. Sam, played by my new crush Jonathan Bailey, and Fred have this adorable friends-to-more romance and I couldn't get enough of them. The ending for Lulu and Anthony was super unsatisfying for me, but I didn't care about them all that much. Sam and Fred's ending was enough for me.
Bling Empire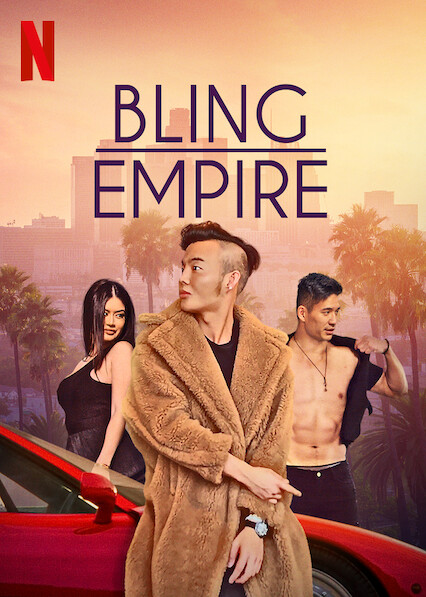 ★★
★1/2
This is the only reality TV show I've watched this year and it was a decent one. I enjoy watching the ridiculous lifestyles of rich people and this one had an additional interesting layer because it features wealthy Asians. There are some uhh ... interesting personalities on the show. I did hope for a bit more drama, but I still enjoyed getting to know these characters. The rich really do live a different life than us peasants do!
Have you watched any of these?
Any shows/movies you recommend?
Let me know in the comments below!