Happy Tuesday, friends!
Today's Top Ten Tuesday post is Books On My Summer 2019 TBR. In exactly one month, I will be officially on my break, and I look forward to reading lots of great books. I have some series I want to binge-read that I will share in another post, but I'm also looking forward to catching up on some highly anticipated ARCs. I'm sharing those with you in my post today! Sorry, I know this is way more than 10 books!
10 Blind Dates by Ashley Elston
This sounds like a really sweet read that is 100% up my alley. Sophie is looking forward to a Christmas of making out with her long-time boyfriend, only to have him break up with her. With her broken heart, she flees to her grandmother's where she is forced to interact with her extended family, who set her up on 10 blind dates! And then .... her ex shows up! What will Sophie do?
Past Perfect Life by Elizabeth Eulberg
It's been ages since I've read a book from Elizabeth Eulberg, but I love her writing and I'm excited to read Past Perfect Life. It's a story of a young woman who discovers that she isn't who she thought she was when her college applications are flagged. It sounds emotional, but I'm curious to see how Eulberg handles the topic.
Stealing Home by Becky Wallace
I seem to enjoy YA sports romances more than adult sports romances for some reason which is a solid reason why Stealing Home is on my TBR. I also loved Wallace's fantasy debut series so I'm interested in reading her take on contemporary. It sounds like a really swoony story with a touch of forbidden love and a whole lot of baseball.
The Lady Rogue by Jenn Bennett
I have loved each and every book by Jenn Bennett from her adult urban fantasy, to historicals to YA contemporaries. She is at the top of my favorite authors-list, so it's no doubt that I am eagerly waiting to read The Lady Rogue, her historical YA debut. It tells the story of Theodora and Huck who go on an epic treasure-hunting adventure to find a ring. It sounds like a lot of fun!
Symptoms of a Heartbreak by Sona Charaipotra
Symptoms of a Heartbreak is on my list because of the concept of the youngest doctor in the US. I also love that she is an Indian American. I can imagine that it is a lot of responsibilities for a teenager to handle while also trying to deal with the problems that emerge when a young woman is growing up. It sounds like it might be an emotional read too. Bring on the tears!
Sorcery of Thorns by Margaret Rogerson
I know this one has already released but I have not had a chance to pick it up yet. I've been a bit hesitant partly because of the length, but also because I'm worried it won't live up to An Enchantment of Ravens, which I adored. I've heard amazing things about Sorcery of Thorns, however, and I hope to buddy read this with Wendy soon. Any book that has magical libraries is a book that I will definitely enjoy.
The Bromance Book Club by Lyssa Kay Adams
Berkley has been blessing us with some fantastic romance novels. The Bromance Book Club is at the top of my most anticipated romances. It's a marriage-in-trouble book in which the husband joins a romance book club to help him win her back. Isn't that the sweetest concept?
Faker by Sarah Smith
This is an office hate-to-love romance with a diverse cast and I am 100% here for it. Emmie can't stand Tate, but they are forced to work together, which definitely means all the sparks will fly. This is a romance book, after all. :)
Husband Material by Emily Belden
I want to read this one because the heroine is a data analyst. The story also sounds very interesting. Charlotte is a widow and 5 years later, her late husband's ashes show up on her doorstep. Secrets are revealed and new love is found. It sounds so good!
One Day to Fall by Therese Beharrie
Therese Beharrie owns my heart. Her writing is just the best and her romances make me feel all the feels. One Day to Fall sounds like another charming romance from her. This is another hate-to-love romance that takes place in one day. I'm not usually one for romances that occur over a short period of time, but Therese Beharrie does a brilliant job with them.
She's Got Game by Laura Heffernan
I've not read anything from Laura Heffernan, but this sounds right up my alley. The heroine is a travel blogger and a gamer. Her competition at some major competition is a sexy flirty champion. I bet a lot of fun shenanigans ensue!
Get a Life, Chloe Brown by Talia Hibbert
I am relatively new to Talia Hibbert's books, but I've fallen hopelessly in love with her writing. Chloe has lived a relatively sheltered life because of a chronic illness, which is why she enlists Redford's help with a "Get a Life" list. I can't wait to pick it up!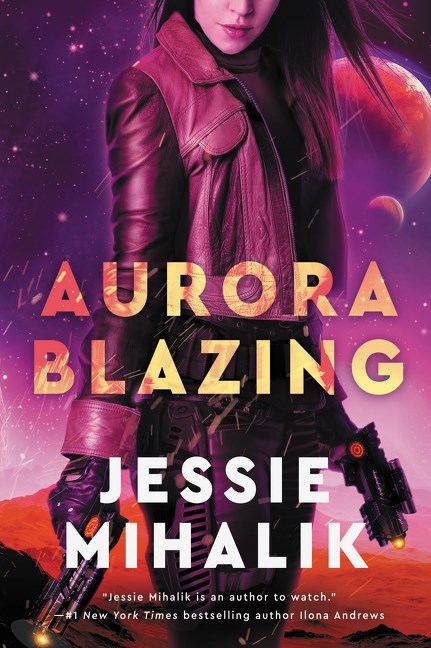 The Art of Theft by Sherry Thomas
This is book 4 in one of my favorite series of all time. If you have not heard of the Lady Sherlock series, it's a gender-bent, Sherlock Holmes retelling that is just excellent and addictive in every way. I've grown so fond of these characters and their relationships. I will probably re-read the first three books before I read this!
Aurora Blazing by Jessie Mihalik
This is the second book in the Consortium Rebellion series. Each book follows a different character so it's a lot of fun. We met both Bianca and Ian in the first book and oof, the tension between these two! SMOLDERING! I bet this book will be super sexy!
The Magnolia Sword by Sherry Thomas
I can't believe that we're being blessed with two Sherry Thomas books this year! The Magnolia Sword is a YA retelling of Mulan, and oh my! It sounds fantastic.
There you have it! My summer ARC TBR!
What are some books you're looking forward to reading this summer? Are any of these books on your TBR?
Let me know in the comments below!