Hi friends!
I want to start this post off by wishing all the moms a Happy Mother's Day!
I hope you are all doing okay. I have to admit to not feeling all that great these past few weeks. I've been very anxious and scatter-brained. I've maybe gotten 4 hours of sleep every night as I wake up in the middle of the night and can't fall back asleep. I'm not sure what's going on, but the combination of midterms, looming finals, work deadlines, and studying is not helping with the state of my mental and physical health. I've been so exhausted every day and even coffee doesn't help with the tiredness during the day. I'm going to try doing some meditation this week in the hopes that it will at least help me get some proper sleep. I had my midterms this week and I studied hard for them, but one did not go very well at all. I was unable to solve one problem worth about 30% of the grade and got really flustered. An hour and a half into the exam, the professor tells us there's a typo in the problem which was why I couldn't solve it. After being so upset about it, I couldn't focus and didn't get a chance to complete the problem. It sucks that if there hadn't been a typo, there's a chance I could have done decently on this test. It's over now, but I hate how I'm having so much self-doubt lately. There have been times in the past few weeks when I have felt like I don't deserve to be in a doctoral program because I am not smart or good enough. Anyways, I didn't mean to go on about the negativity but I thought it might help to write it all out.
After my sucky test, I did decide I needed a break from anything school related, so I went to happy hour with some friends and we got Korean fried chicken. This was my first time trying Korean fried chicken and I am certainly a fan. On Friday, I also decided to take a self-care day for myself. I did some shopping and got some new make-up products and a couple of books. Then, I spent the rest of the day napping, watching television, and eating cheesecake. :) It wasn't too shabby of a weekend at least!
Here are my reading updates:
Week In Reading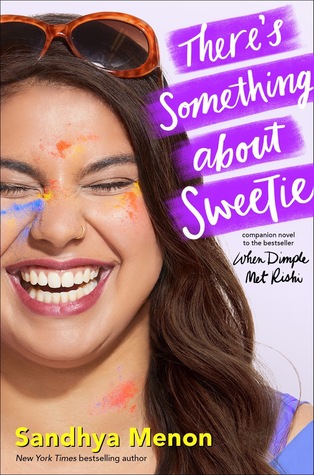 All of these books were amazing reads for me.
There's Something About Sweetie
made me laugh and cry! It was wonderful. I also really loved
Bringing Down the Duke
. I've also been enjoying Talia Hibbert's
Ravenswood
series, so I knew I would enjoy
That Kind of Guy
and it was fabulous!
The Flatshare
started off a bit rough for me, but by the end, it was super cute!
Week In Book Haul
Thanks to all the wonderful publishers & authors for the review copies!
Week In Posts
A Prince On Paper by Alyssa Cole
The Bride Test by Helen Hoang
Love From A to Z by S.K Ali
Giveaway Post
*Linked to The Sunday Post hosted by
Caffeinated Book Reviewer
*
I hope you all had good weeks!
Let me know in the comments below!