Hi friends!
Thank you for being patient with me as I took a break from blogging. I left home last Saturday and traveled over 2 days and multiple time zones to get back to Philly. It sucked to leave home and I was a sobbing mess the day I left and at the airport. There are times when I wish I hadn't left home to attend school, but it's too late for regrets. The plan is to go back home after I complete this degree. The 3 flights I had to take to come here were LONG and not very comfortable, unfortunately. I'm usually good at sleeping on flights, but I had a really tough time. But I got to Philadelphia safe and sound, which is what is important.
On Monday, I grabbed the keys to my new place and head off to set up the electricity. That was such a complete pain. I arrived there around 10.30 am and got a ticket to be in line. I only got attended to at around 2 pm. Even then, this lady who was sitting next to me had to go to yell at someone to actually call my number. If not for this kind stranger, who knows how long I would have taken! The electric company wasn't sure if I would be able to get my electric running the same day, but when I got home it was on! Internet thankfully didn't take too long, which was surprising given how the electric set up for me.
Most of Tuesday and Wednesday, I spent unpacking all my stuff. I was determined to finish everything in one go. I put on some music and got to work. This is my first time living on my own without any roommates, and I have to say, it's a little lonely and quiet, but I know I will come to appreciate that once I have school work. On Thursday, I then headed off to school for my orientation. It was familiar, but also slightly strange as I am now in a different program. I am hoping that everything will go smoothly.
Now that I'm finally settled in, I'm hoping I can get back into the swing of blogging. I haven't had a chance to read much this week, but hope to carve out some reading time this weekend!
Week In Reading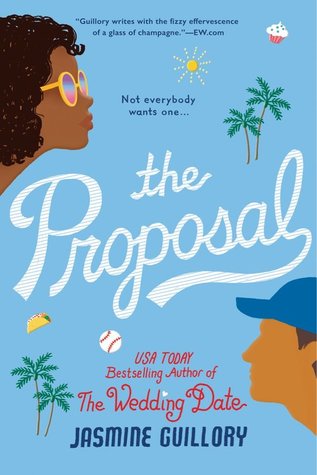 These are the books I read the week before I left home. I enjoyed all of these with the exception of The Proposal. I thought The Proposal was a bit of a dud, which made me sad since I adored The Wedding Date. My favorites from this list definitely have to be Rebel Hard and Best of Luck. Both had amazing romances!
Week In Book Haul
Thank you to the wonderful publishers, publicists and authors for the review copies!
Week In Posts
All the Little Bones by Ellie Marney
Phoenix Unbound by Grace Draven
Fall TV Plans
Rebel Hard by Nalini Singh
Followers Appreciation Giveaway
I hope you all had good weeks as well!
Let me know in the comments below!